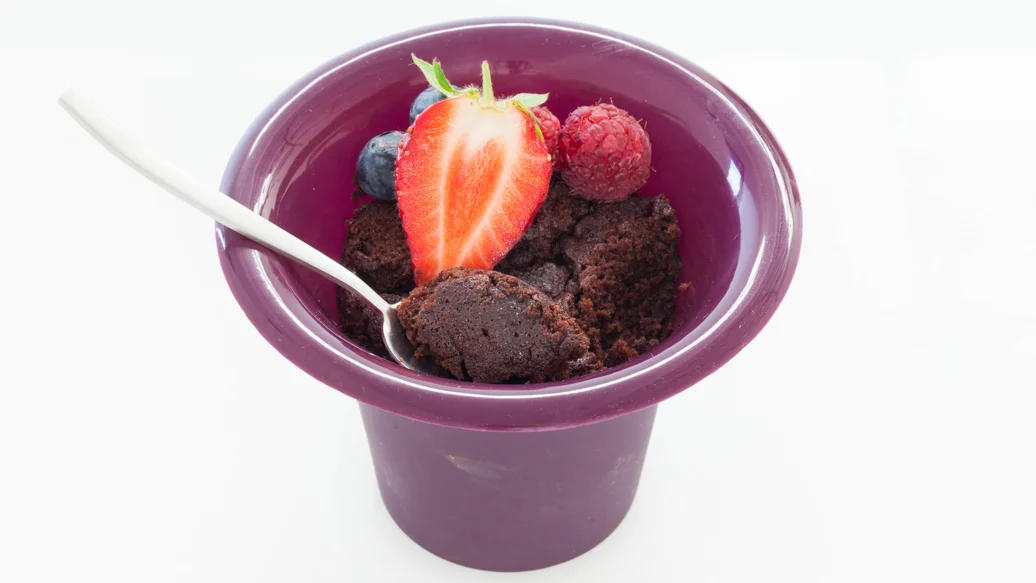 7 min
2 cakes
$1.55/serving
Ingredients
2 tbsp butter
2 tbsp dark chocolate chips
1 large egg
1⁄4 cup sugar
3 tbsp milk
2 tbsp cocoa powder
1⁄2 tsp vanilla extract
2 tbsp all-purpose flour
1⁄2 tsp baking powder
Preparation
In a medium bowl, combine butter and chocolate chips. Microwave on high for 30 seconds, or until melted, and stir.
Whisk in egg.
Stir in sugar, milk, cocoa, and vanilla. Add the flour and baking powder and beat until smooth.
Lightly oil two microwave safe mugs or molds, your choice, with a basting brush. Divide the batter between the two mugs and microwave on high for 1 1⁄2–2 minutes until cooked. A toothpick should come out nearly clean.
Nutritional Information
Per serving (1 cake): Calories 350, Fat 21 g (Saturated 12 g, Trans 0.3 g), Cholesterol 155 mg, Sodium 130 mg, Carbohydrate 38 g (Fibre 4 g, Sugars 26 g), Protein 8 g.